Singita Ebony Lodge reinvention
The Radical Reinvention of Singita Ebony Lodge
As part of a new vision for its offering in the Sabi Sand, Singita recently unveiled a complete re-design of its original lodge, Singita Ebony, in South Africa. This property is where the story began 22 years ago and completes Singita's reinvention of its private 45,000 acre game reserve within the Sabi Sand, following the 2014 renovation of Singita Boulders Lodge and Singita Castleton.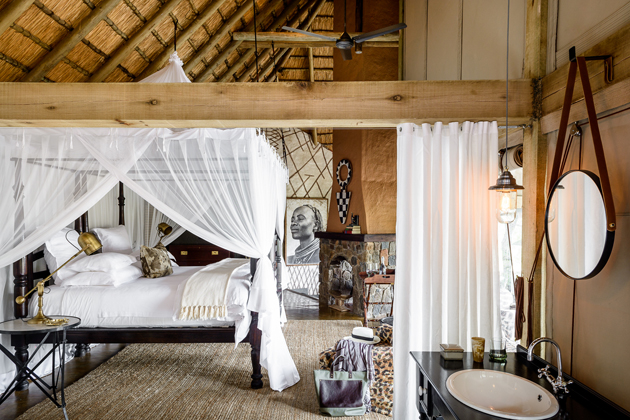 Situated on the banks of the Sand River, Singita Ebony Lodge was already considered one of Africa's most iconic locations and was revolutionary in its pioneering approach to the modern luxury safari experience. The new Ebony will takes safari style to a new level altogether, following its transformation by design team Cécile & Boyd, working alongside architect Sally Tsiliyiannis from GAPP Architects. Their unique vision has created a fresh and contemporary interpretation of the classic safari lodge, combining tented camp and bush lodge style. Guests are immersed in nature with huge open spaces and interiors inspired by a combination of local tribal culture and the animal kingdom.
The new Singita Ebony Lodge comprises 12 suites, each with its own private plunge pool. Dramatic changes include internal and external walls being replaced by canvas and glass to create new safari tent-style suites to maximise views and space. The entire front wall of each suite between the bedroom and the veranda has been removed, allowing light to flood in. Outdoor pavilion decks – ideal for dining and relaxing – are suspended above the river banks as if hanging from the trees.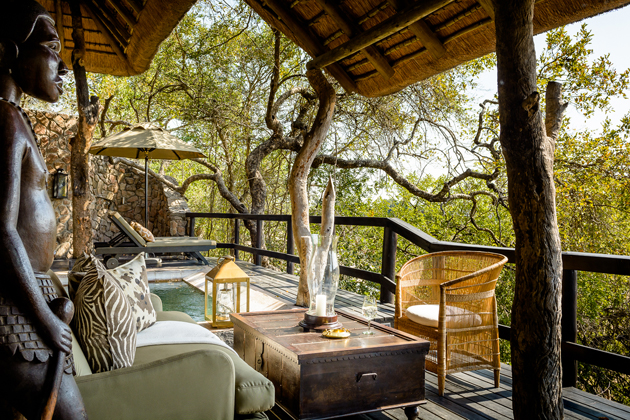 The updated interiors feature curated still-life collections of antiques and artefacts, as well as vintage campaign furniture from the Bailes family collection. Materials like wood, iron, steel and aged bonze hark back to the 19th century, along with oversized sepia photography, glamorous leopard and zebra print upholstery that complements bold graphic tribal patterned murals. Replacing animal skins, Singita Ebony Lodge now features printed animal patterns on textured fabric to help attune guests to their surroundings within the context of Singita's pivotal conservation philosophy.
Ebony's central sociable hub will be the very heart of the lodge – a place to meet, relax, socialise and take in the view. The sitting room has been moved to the very front of the lodge, closer to nature, to create a contemplative space. The style is reflective of what Singita calls the 'New Nomad', the traveller who wants to return to nature but stay connected. A beautiful marble and cast iron table is the furniture centrepiece for this concept – it is a traveller's desk with smart tools, a private dining room table for entertaining or a bar to enjoy an evening gin & tonic in one.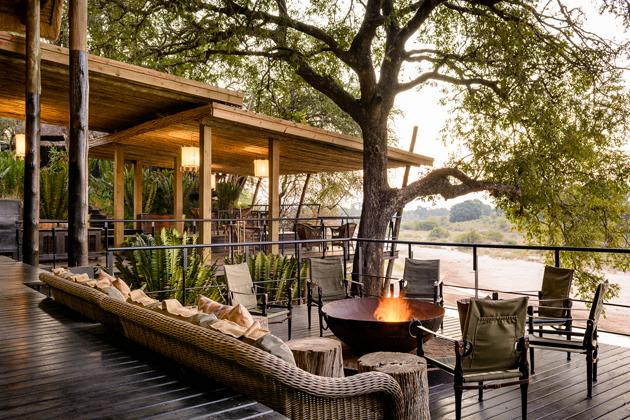 Singita's evolution from a single-lodge company to one that is now responsible for a million acres of land, operating 12 lodges and camps in five wilderness regions across three African countries, has always been characterised by a pioneering spirit and a sincere desire to preserve wilderness areas for future generations. Its low-impact, high-value tourism model – fewer guests paying a premium for the privilege of experiencing vast open spaces – exists to sustain these wilderness areas and their resident wildlife, while providing an exclusive safari experience.
To discover Singita Ebony Lodge for yourself, please contact our Reservations team who will design an unforgettable safari getaway just for you.