Safari lodge architecture
Singita Sweni Lodge: A Remarkable Reinvention
Singita has unveiled the reinvention of Singita Sweni Lodge in South Africa's iconic Kruger National Park. Drawing from nature's most striking colour palette - the iridescent sheen of bird feathers, butterfly wings and beetle shells - this bold new look is a celebration of contemporary African design.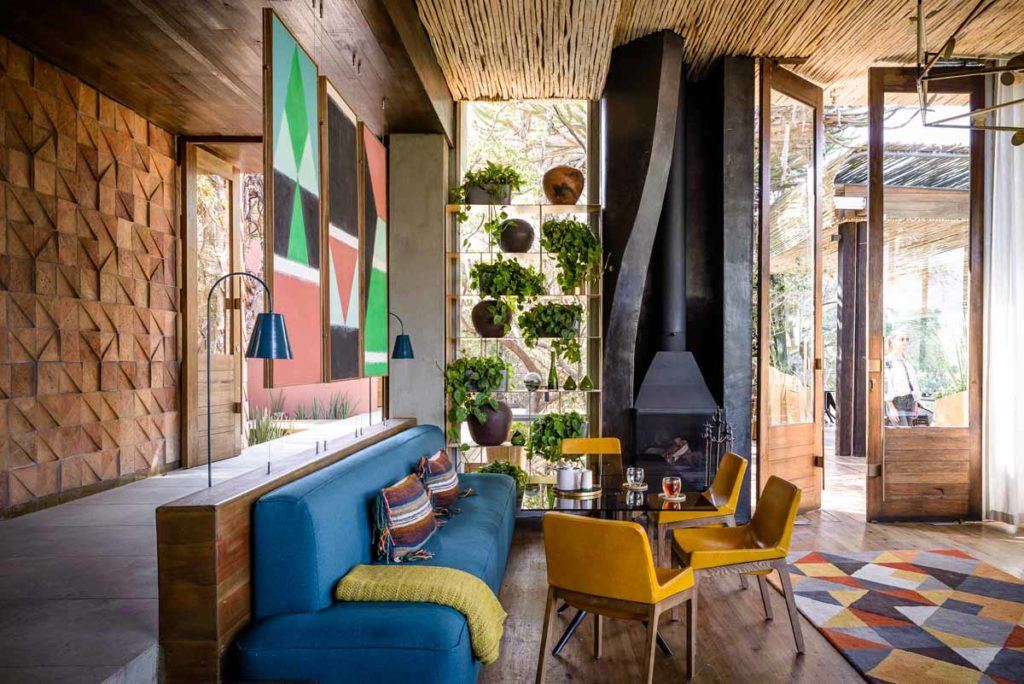 The lodge's position low on the banks of the Sweni River, enfolded by the boughs of ancient trees, has always been a source of inspiration for the design of this intimate hideaway. Leading South African design team, Cécile & Boyd have amplified the organic theme in the new-look Singita Sweni Lodge, which features gold and bronze ore, polished mud, gleaming recycled timbers, richly hued marble and splashes of vibrant colour, set against a soothing, neutral base palette. Bold pops of teal, emerald, citron, yellow and pale pink now give a dramatic feel to the space.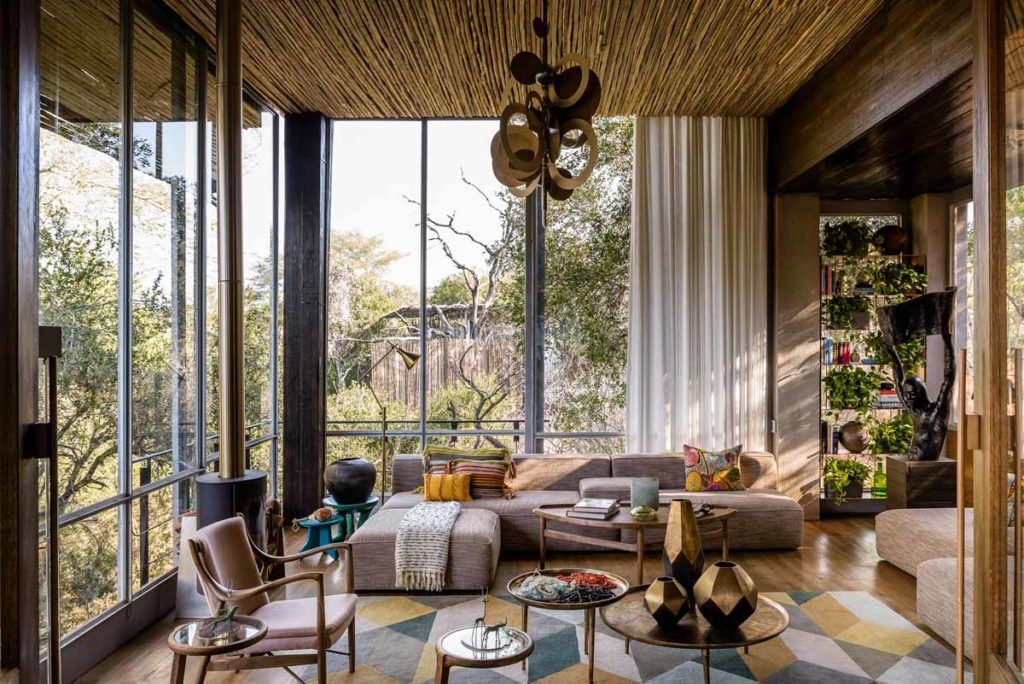 The collaboration with GAPP Architects has resulted in a glamorous and sophisticated expression of safari style. The lodge features a revamped dining experience and show kitchen, new indoor and outdoor dining areas, Marble Bar and lounge, a new pool with views over the Sweni River, a fire pit and viewing deck, and the addition of a secluded Pool Suite. The expansion of the main lodge area, clever use of available space, floor-to-ceiling windows and the new viewing deck all combine to bring guests closer to the wilderness.
The concept of open-plan living has driven the redesign of the lodge's six private suites; a layout which maximises comfort and contact with nature. The panoramic vista from each deck offers prime game-spotting opportunities and a constantly changing view of the landscape. Outdoor showers overlooking the river and a romantic daybed where guests can spend a night under the stars offer an even more intimate connection with the bush. The new Pool Suite, with the unique inclusion of a private swimming pool and shaded riverfront deck, can be connected to the adjacent suite to create a more generous two-bedroom suite, offering guests an extra layer of privacy – perfect for families and honeymoon couples.
In keeping with Singita's firm commitment to sustainability, waste was kept to an absolute minimum while the lodge was reinvented and a number of furniture and decor items were "upcycled" with new finishes and functions. Many elements of the interior design were produced by local artists, craftspeople and community projects, helping to support small enterprises. The work of artist Sarah Pratt, sculptor Adam Birch, lighting designer Conrad van der Westhuizen and weaver Coral Stephens, all based in Southern Africa, bring dynamic energy to the lodge decor with their daring use of colour and texture. Bright wall hangings by African Sketchbook and beautiful handmade tiles from Southern Art Ceramics bring a tactile element to the interior environment, lending an added layer of warmth and luxury to the lodge.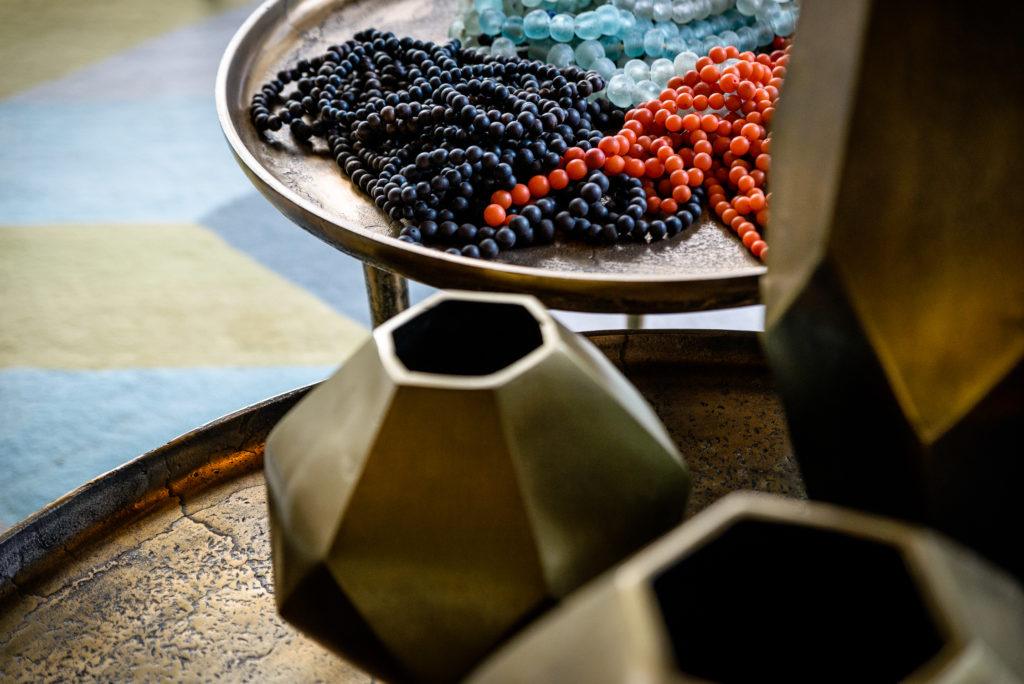 The use of sustainable materials, like hard-wearing rhino wood walkways, and more eco-conscious features, such as new baths that require far less water to fill, are just some of the ways that Singita continues to "touch the Earth lightly." A cutting-edge solar power facility in our Kruger Park concession now provides more sustainable energy generation, consumption, and storage for Singita Lebombo and Sweni Lodges, and its minimal ecological footprint is representative of our approach to hospitality across the board. The reinvented Singita Sweni Lodge is a fine example of this, offering guests an intimate glimpse at the pristine wilderness under our care, while allowing them to contribute to its ongoing conservation.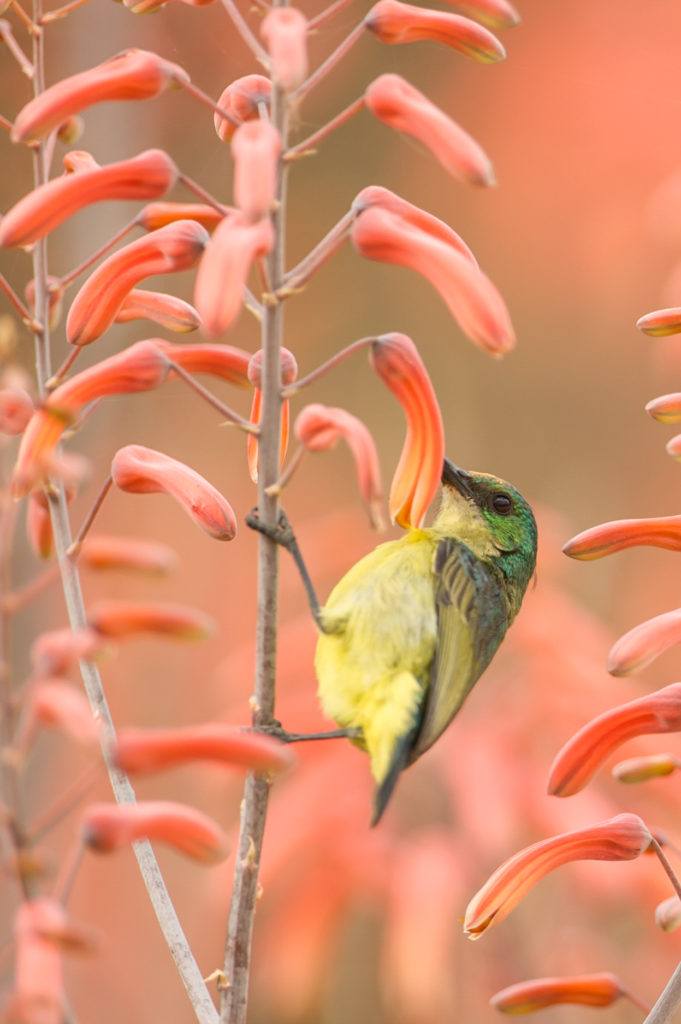 Book your incredible Singita Sweni Lodge safari experience now and discover this hidden jewel for yourself. Call +27 21 683 3424 or email enquiries@singita.com to enquire about availability.