Singita Sweni Lodge Redefines Luxury Bush Experiences
Transformative experiences have become the new sought-after luxury for travelers. Over the past 25 years, Singita has intuitively tailored a new approach to the restorative effect of unconstrained time and space. At the heart of this mindset lies a set of values based on the expectations of savvy travelers, as well as a longing for nurturing natural encounters. Singita Sweni Lodge, set in a remote stretch of South Africa's iconic Kruger National Park, beautifully embodies all the layers of a luxury that suspends time and space.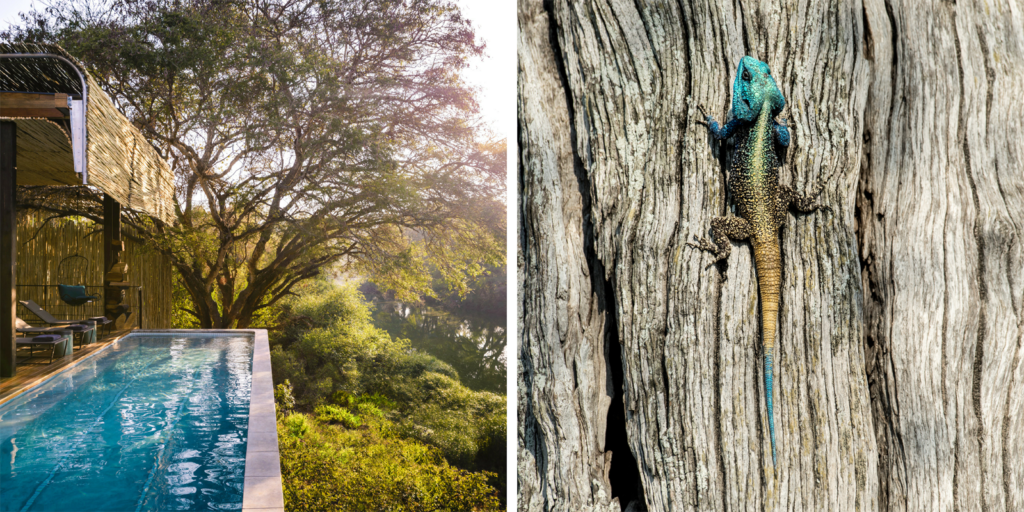 Nestled in the forested banks of the Sweni River, this intimate hideaway has been designed to create a seamless connection between guests and the spectacular landscape surrounding the lodge. Full-height glass walls facing the river bring the scenery inside, while private game-viewing decks in every suite and a sweeping pool deck and outdoor dining area at the main lodge allow full engagement with the verdant surroundings. In contrast to the raw backdrop of granophyre rocks, riverine thickets and open grassland characteristic of the area, the interior of Singita Sweni Lodge is a gleaming jewel inspired by the iridescent sheen of bird feathers, butterfly wings and beetle shells.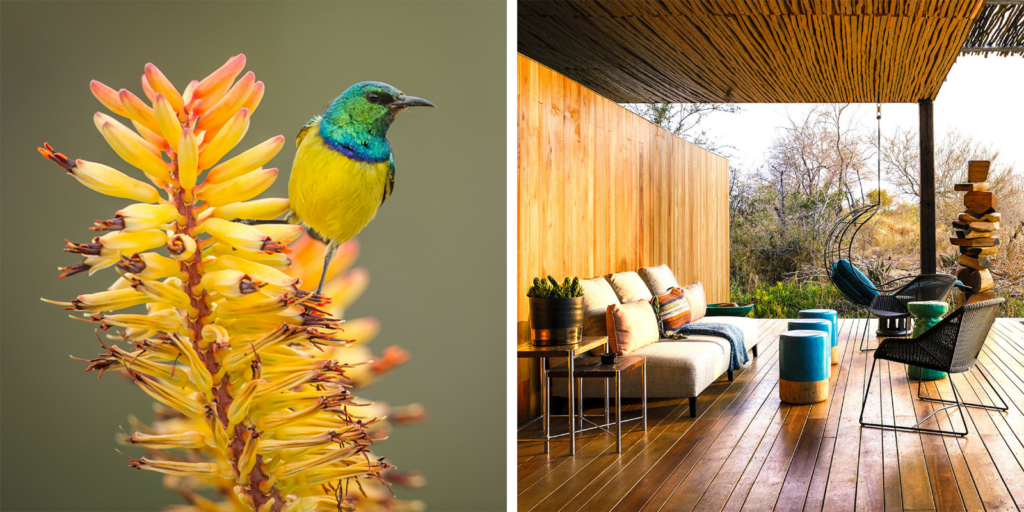 Richly hued marble and furnishings in gold and bronze mirror the earthy tones of its location while pops of pink, citron, teal and emerald call to mind the more colourful creatures in the African bush. It's a dramatic take on traditional safari style; an expression of African design that ushers in a new era in luxury bush experiences. The six contemporary, open-plan suites overlooking the river maximise comfort and contact with nature, offering panoramic vistas and a constantly changing view of the landscape. The Sweni Pool Suite, with its unique inclusion of a private swimming pool and shaded riverfront dining deck, can be connected to the adjacent suite, through an enclosed covered walkway to create a more generous space for families and friends travelling together.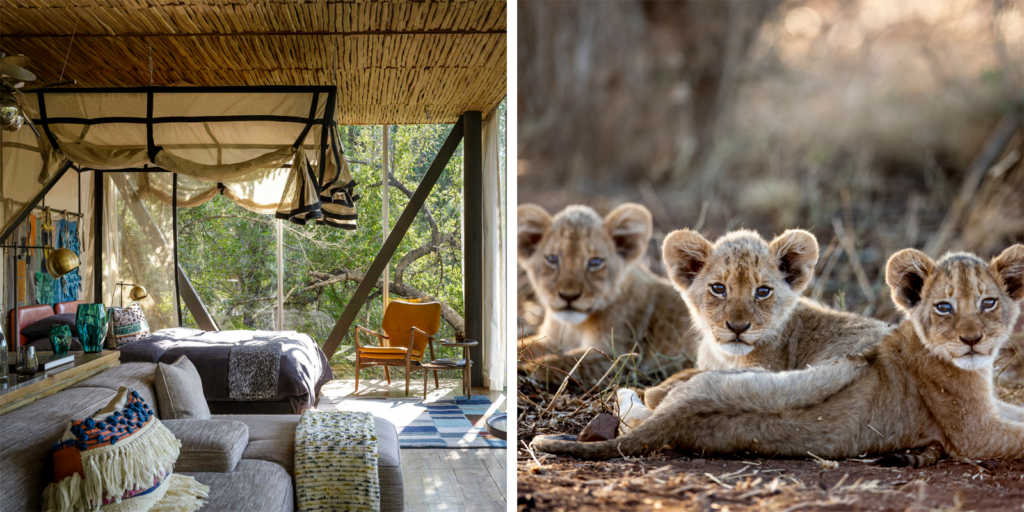 This sense of seclusion extends to the bush itself – guests have private access to 33,000 acres of one of the world's most iconic wildlife reserves. Being immersed in the isolated southeastern reaches of the Kruger National Park, where Singita Sweni Lodge is situated, is undoubtedly a highlight of any visit to the region.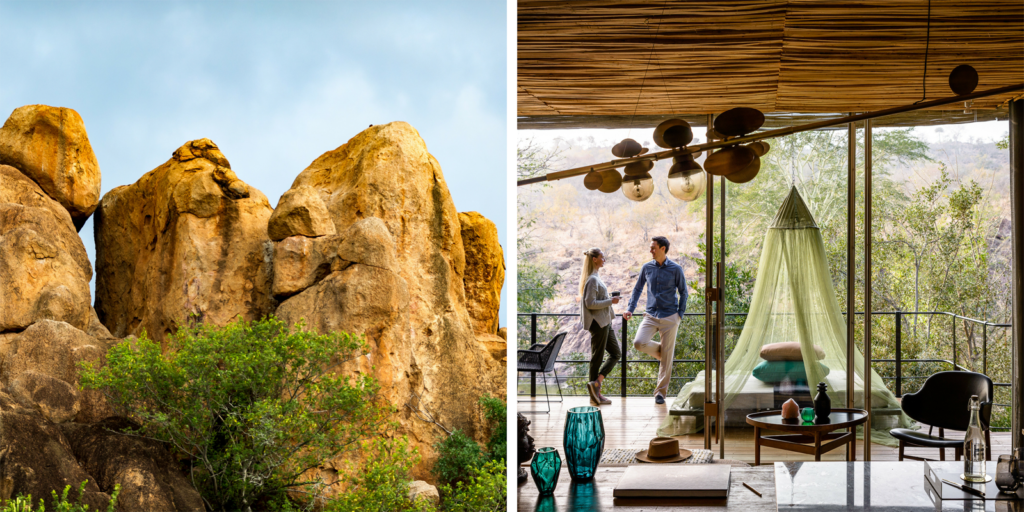 Morning and evening game drives provide ample opportunities to spot elephants, leopard, famously large prides of lion, rhino, buffalo, hippopotamus, cheetah, sable and an abundance of birdlife. Every moment in the presence of these animals is a grounding experience; bringing one's focus to the present. These encounters are often deeply moving for guests and demonstrate the influence of the African wilderness to quiet even the busiest mind and find stillness at a time when the demand for our attention has never been greater.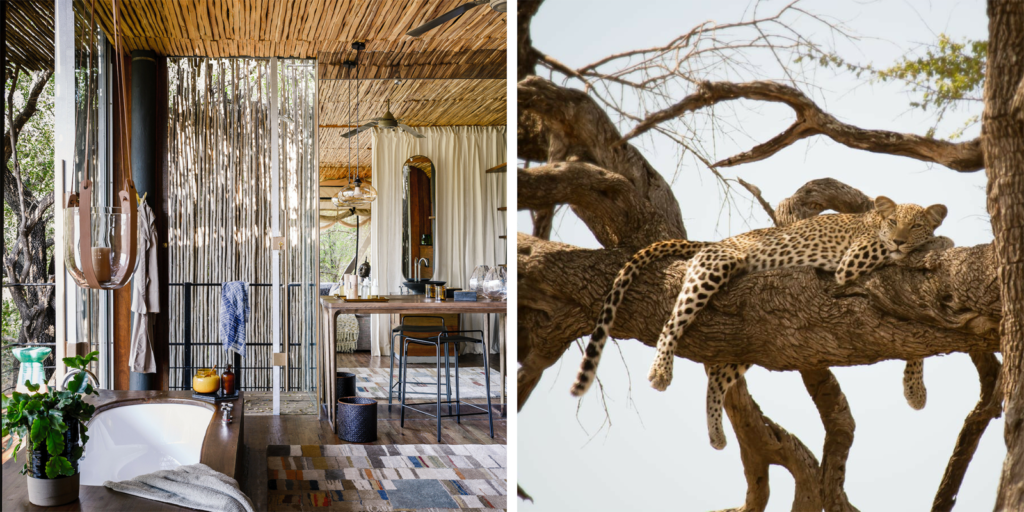 In-between game drives, soaking up the blissful solitude of their suite and enjoying lunches in the tranquil open-plan dining areas of the lodge, guests at Singita Sweni can fill their days with a range of personalised experiences that are attuned to their preferences. From enjoying effortlessly elegant cocktails by the pool to joining students of the Singita Community Culinary School for a cooking class, to rejuvenating spa treatments and tailor-made wine tastings in the temperature-controlled cellar, the golden thread underpinning a stay a Sweni is an experiential offering catering for discerning tastes.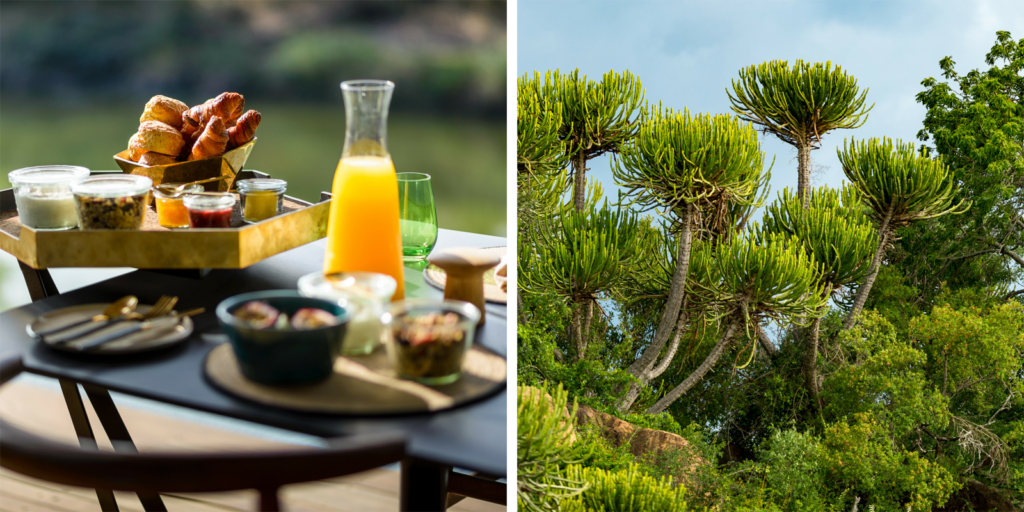 In step with Singita's signature food journey that highlights seasonal produce and specialties from local cuisines, the lodge's beautiful show kitchen embraces a fresh take on cooking techniques like curing, marinating, pickling and fermenting. Perfectly portioned lunches include a flavourful array of different tapas-style dishes. The signature Singita 'bar-deli' in the main bar area, brimful of freshly prepared sweet and savoury snacks, salads and mini-meals, allows guests the freedom to enjoy light meals whenever they choose.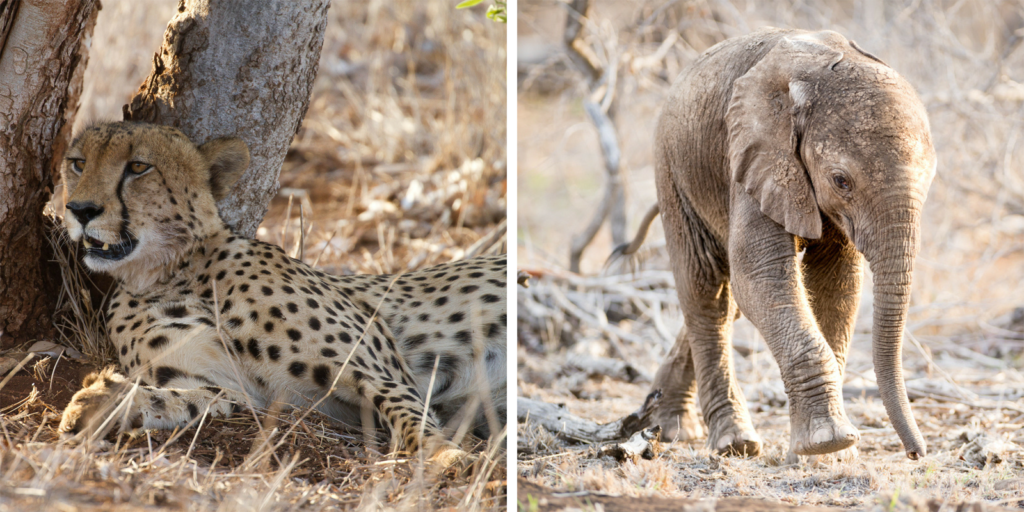 **Singita Sweni and Ebony Lodge Combination **Book a combination of five nights between Sweni and Ebony Lodge and receive one of the nights and one flight per person between the lodges complimentary. Enquire about this promotion now.