Malilangwe Wildlife Reserve
Bringing Shangaan Culture to Life at the Kambako Living Museum
Richard and Sarah Madden are freelance travel writers and filmmakers currently documenting life in and around Singita Pamushana Lodge in Zimbabwe. Their series of short films from the region is entitled "Bush Tales" and explores Singita's community development, ecotourism and conservation work in Southern Africa. In this, their latest report, they paid a visit to a unique and culturally significant community project near the lodge.
Sarah Madden has a lesson in Shangaan culture
Kambako is the local Shangaan word for 'Old Bull Elephant' and is the name chosen by Julius Matshuve for the Living Museum of Bushcraft he founded in 2011.
"Kambako is like a wise, old man who is taking us in the right direction," says Julius. "The older generation who know the old ways will soon be gone and the aim of the Living Museum is to teach their skills and knowledge to the younger generation before they are lost forever."
Kambako is located just outside the Malilangwe Reserve surrounding Singita Pamushana and has become a very popular excursion for guests at the lodge. The local Shangaan community are directly descended from the Zulu tribes that split away from Shaka Zulu at the beginning of the 19th Century and came to settle in this area of what is now Zimbabwe.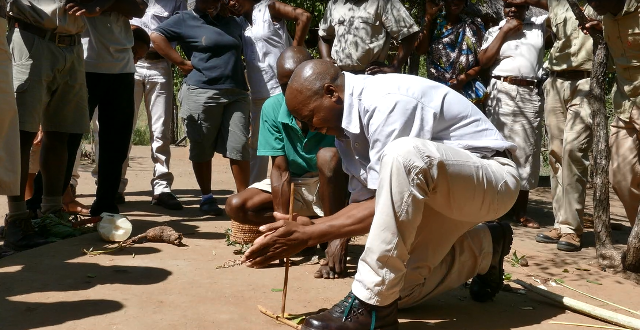 In the recent past, the Shangaan people were hunter gatherers and their traditional lifestyle is recreated through demonstrations of practical skills which visitors can see in action and try them out for themselves. These include making fire from friction, identifying tubers, water divining, bow and arrow making and shooting, snares for trapping small game, smelting and forging iron, basketry, food production and cooking.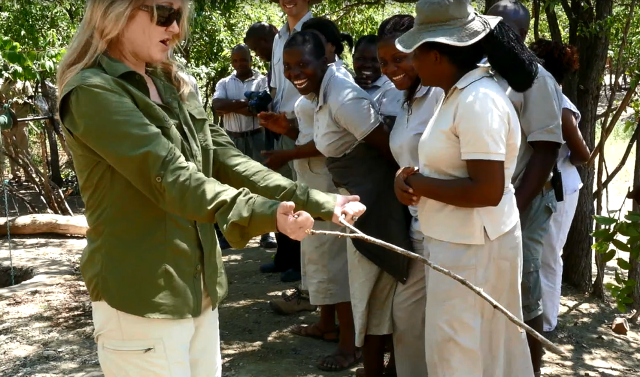 An intimate knowledge of the natural resources available and an in-depth understanding of animal behaviour is vital for success as a hunter-gatherer and as the Shangaan made the transition to their current agro-pastoral lifestyle, new skills also became necessary such as the construction and use of a smelter and forge.
The adaptability and ingenuity of the human spirit is emphasised throughout the visit and the pros and cons of the Shangaan way of life are discussed in relation to a modern first world existence. "Today's young generation have contact with many foreign cultures and technology is in danger of taking over their lives," says Julius. "When I was young we could only talk to an older man kneeling down and we were not allowed to talk during meals.
"While we would not want to go back to that, it is so important that the old skills are not lost forever. We want to teach the young people how to survive even if there are no shops and no technology. If you are lost in the forest, the young need to know how to survive and make life out of natural resources."
WATCH THE VIDEO
The Kambako Living Museum is a 45-minute game drive from Singita Pamushana Lodge. Guests can tour the village as well as undertake any number of enriching activities in the Malilangwe Wildlife Reserve. These include visits to significant San Bushmen rock art sites, game fishing in the dam, a romantic sundowner cruise and hitting the trails on a mountain bike. Visit our website to find out more about Singita Pamushana Lodge.
You can see Richard and Sarah's other "Bush Tales" reports here.