Singita Mara River Tented Camp
Singita Sabora Tented Camp
Art on a Plate: Food Design at Singita Grumeti & Singita Lamai
Singita has six different camps and lodges in Tanzania with a common design philosophy but each with a unique style which is complemented by the food design. From the cool neutral palette of Singita Serengeti House and contemporary, organic style of Singita Faru Faru Lodge to the nostalgic tented interiors of Singita Explore, the food at each property reflects the aesthetic of its location.
Keeping all of these food styles in mind, we pride ourselves on serving only the best quality food and try to make each dining experience the best possible. The remote and relatively isolated nature of the Grumeti Reserves poses a considerable challenge to our chefs but with some imagination and ingenuity, every plate is a sensory delight. Executive Chef Frank Louw describes how these plates differ from lodge to lodge:
Singita Sasakwa Lodge The turn-of-the-century manor house and private cottages are decorated with a blend of authentic European style and East African influences. This translates to a classic and sophisticated approach to food, without complicating the plating or style of the dishes. Traditional cooking methods are given a new approach by experimenting with texture, feel and taste. Daily pickings from the kitchen garden and local ingredients are showcased on our daily menus.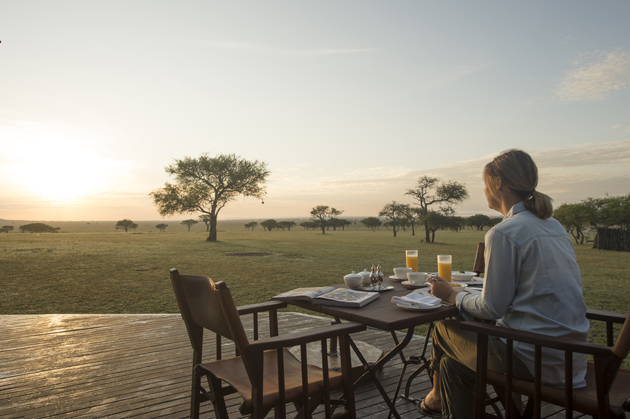 Singita Sabora Tented Camp The intimate 1920s-style explorer's camp is permeated by a sense of sentimental adventure. At Singita Sabora Tented Camp we try to keep the style of food uncomplicated, designing elegant menus that feature old-time favourites given a stylish twist. Guests can also choose to sample dishes from a special Swahili menu to experience the local cuisine. Copper, silver and crystal bowls are used to set the perfect dining scene.
Singita Faru Faru Lodge This contemporary riverine lodge lends itself to a modern elegant cuisine without any unnecessary complications. Fresh, healthy and vibrant are just some of the words that best describe the food served here, that reflects a sense of "barefoot elegance". With a true island feel, the kitchen at Singita Faru Faru Lodge also makes use of wonderful Zanzibari flavours and oceanic offerings, including fresh seafood and vibrant spices.
Singita Explore Singita Explore, always on the move, offers wholesome, hearty food with a campfire ambiance; the smoky aromas capturing the essence of nature. Fires are a priority at every meal, and thus, be it breakfast, lunch or dinner nearly all the food on the menu is prepared on the open fire. The unique experience and flavours that result from this cooking method is one of the things that makes this mobile camp so unique.
Singita Mara River Tented Camp Laid-back luxury and bohemian glamour is at the heart of this incredible eco-lodge build at the northern-most tip of the Serengeti National Park. Along with everything else at the camp, power for the kitchen is generated by a custom designed solar system and operates entirely "off the grid". This sensitivity is extended to the food that is prepared here so that guests enjoy a balanced menu offering modern bistro fare made with plenty of local produce.
Singita Serengeti House There is only one way to describe the feeling of stepping into this exclusive-use retreat: Home away from home. The property is specifically designed to welcome families and friends and create an environment of total relaxation for a carefree stay. The food is therefore simple and homely, and the meals are shared together at the table. Wholesome, family-style food is prepared by your own private chef which offers guests even more flexibility, as they are able to collaborate on a menu to suit every palate.
Our chefs work closely with local farmers to grow everything from potatoes to passion fruit for use in the kitchens, and in so doing supporting the nearby communities and helping these suppliers to expand their businesses. We also run a dedicated training programme at the Singita School of Cooking to teach culinary skills to the local youth. You can find out more about Singita's community projects here.