A kaleidoscope of contrasts: Singita's Southern African journey
From the dense vegetation, lush bushveld and close encounters with leopards in the Sabi Sand to the dramatic high-lying granite ridges and grassy plains of the Kruger National Park, Singita's South African lodges offer an unparalleled combination of remarkably diverse landscapes.
Despite the close proximity of these regions to each other, the striking juxtaposition between the romance of the classic safari accommodation at Singita Boulders and Ebony Lodges, and the dramatic, contemporary appeal of Singita Lebombo and Sweni Lodges in Singita Kruger National Park, forms the perfect backdrop for their vastly different wildlife encounters and guest experiences. It's a rare opportunity to seamlessly merge quintessential African safari elements with edgy, modern wilderness experiences – all layered in the utmost luxury.
Continuing this journey of captivating contrasts into the remote beauty of the Malilangwe Wildlife Reserve in Zimbabwe – less than a two-hour direct flight from Johannesburg – ensures the ultimate Singita journey in Southern Africa, embracing the best these three extraordinary regions have to offer.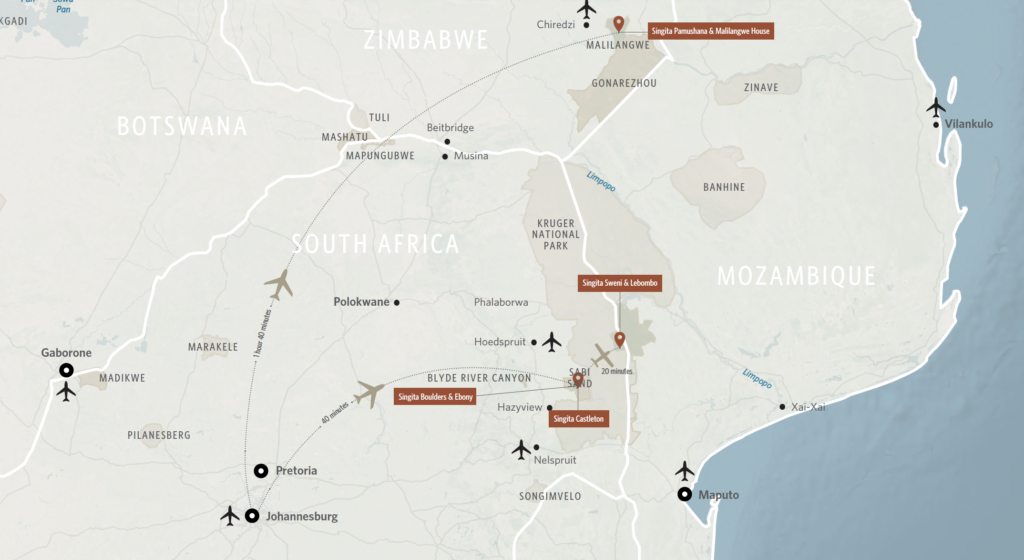 Click to download full size map
Singita Sabi Sand, South Africa Singita's private concession in the Sabi Sand is where it all began more than 25 years ago. When founder, Luke Bailes, opened Singita Ebony Lodge on family-owned land along the banks of the Sand River, it launched an ever-growing legacy of sustainable ecotourism operations tailor-made to provide guests with exquisite wildlife adventures in unspoilt natural surroundings.
Reserved exclusively for guests of Singita Boulders and Ebony Lodges and Singita Castleton, this privately owned game reserve shares an unfenced border with the Kruger National Park, allowing wildlife to roam freely between these two protected areas. This positions Singita Sabi Sand perfectly to give guests a front-row seat to high concentrations of big game, as well as the spectacular leopard sightings here.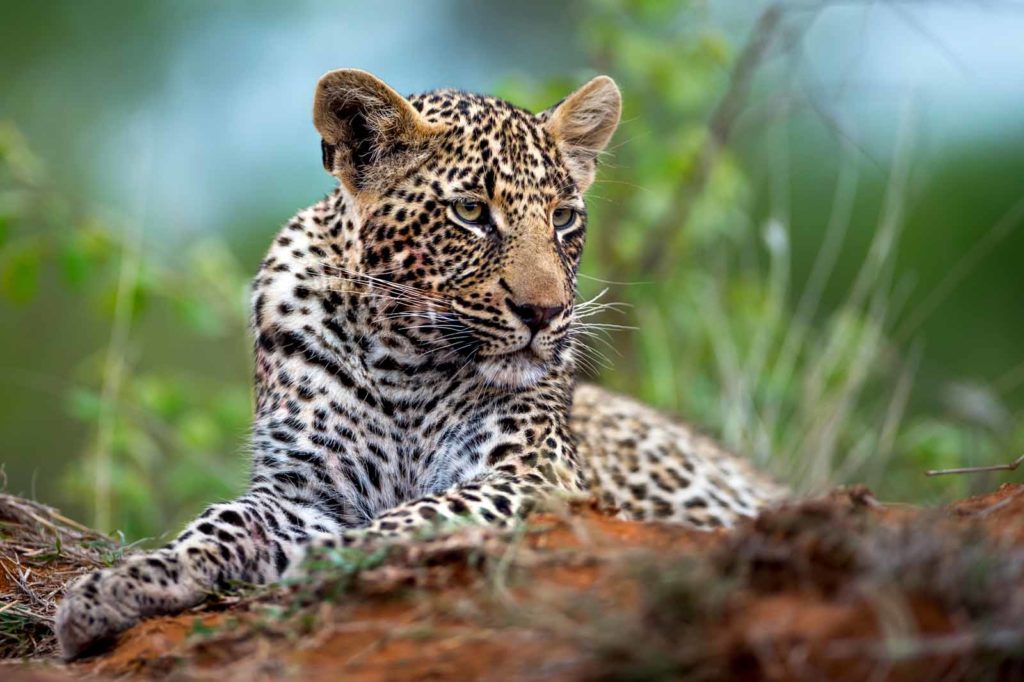 Singita Kruger National Park, South Africa Situated on 33,000 acres of breathtaking landscapes, Singita's private concession in one of Africa's oldest and largest national parks offers ample opportunities to explore isolated stretches of pristine wilderness teeming with wildlife. It's home to two magnificent lodges – Singita Lebombo and Singita Sweni – each set in peaceful surrounds on winding riverbanks, providing the utmost luxury while experiencing this world-renowned reserve.
The area is especially well-known for its remarkable concentration of the continent's most iconic wildlife, including large herds of breeding elephants and awe-inspiring prides of lion, which are regularly spotted on here. Both lodges boast a unique interpretation of contemporary African design, which is underpinned by Singita's distinctive high-end, sustainable safari experiences that enfold guests in complete comfort while touching the Earth lightly.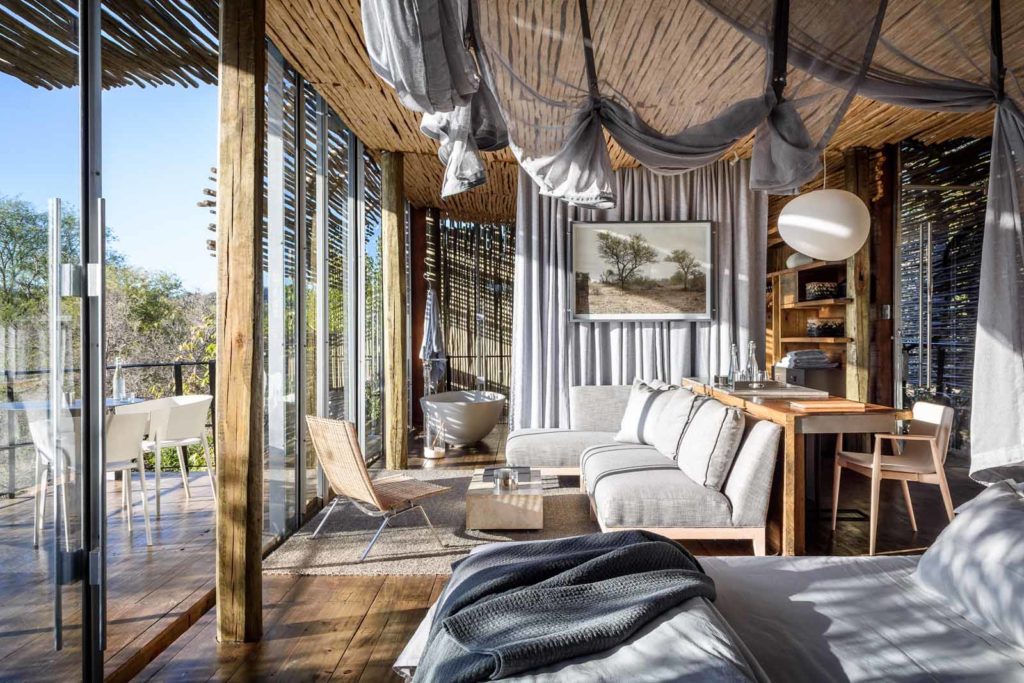 Singita Lebombo Lodge
Singita Pamushana, Zimbabwe Arriving at Singita Pamushana Lodge, a short flight away from Johannesburg, Singita Sabi Sand and Kruger National Park, an iconic landscape unlike any other is revealed, offering some of Zimbabwe's best game-viewing opportunities. Home to one of the highest concentrations of the endangered black rhino, as well as fourteen species of eagles, the rugged sandstone ridges, cathedral-like mopane forests and majestic baobab trees immerse guests in this remote setting's breathtaking scenery.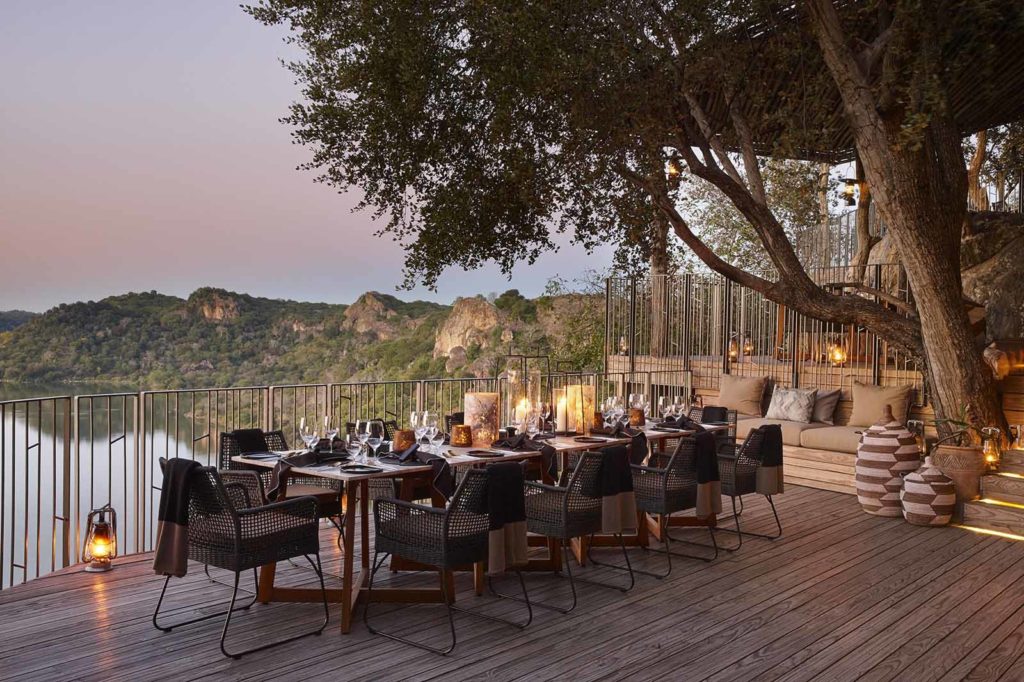 Singita Pamushana Lodge
Drawing inspiration from the vibrant tribal history of the region, the design of this lodge is not only a celebration of its exquisite African artefacts, but also reflects its singular surroundings. Perched high above the shimmering Malilangwe Dam, and with magnificent views of the diverse landscape in this remarkable 130,000-acre reserve, Pamushana Lodge and the exclusive-use Malilangwe House (opening in July 2019) draw guests outdoors and connect them with nature in profound ways.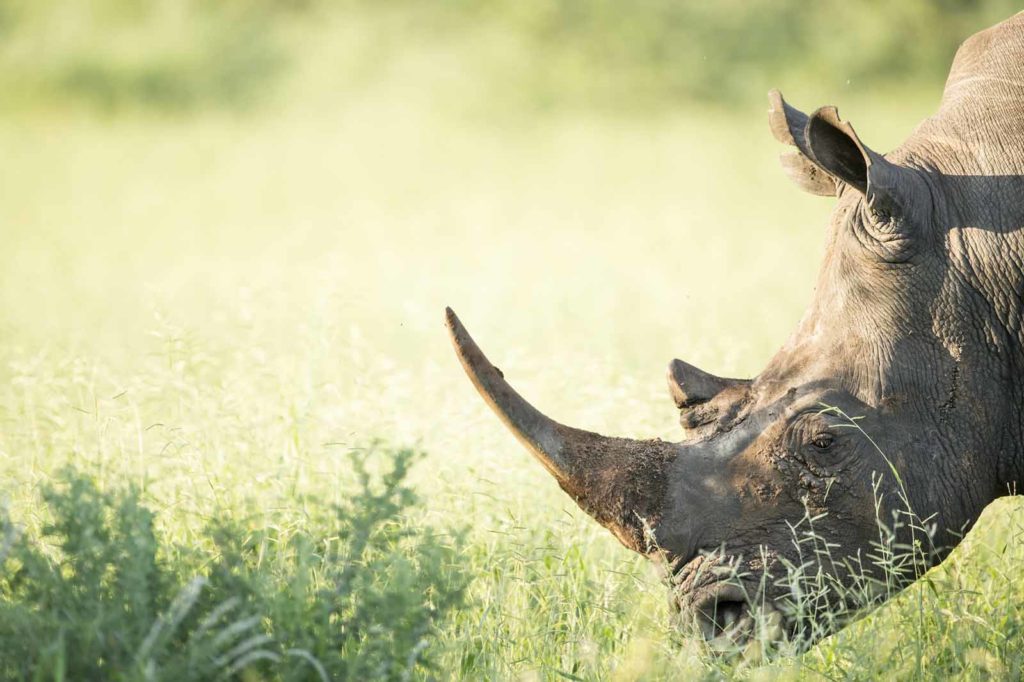 Merging the most sought-after wilderness experiences in Southern Africa, a Singita safari through these three iconic regions amounts to an unforgettable journey that captures the essence of each. Their exceptional protected natural habitats for thousands of animals and plant species, coupled with the sheer serenity offered at each lodge, allow guests to be immersed in Southern Africa's wildest places, observe the ebb and flow of its seasons and reclaim an elemental sense of belonging in nature.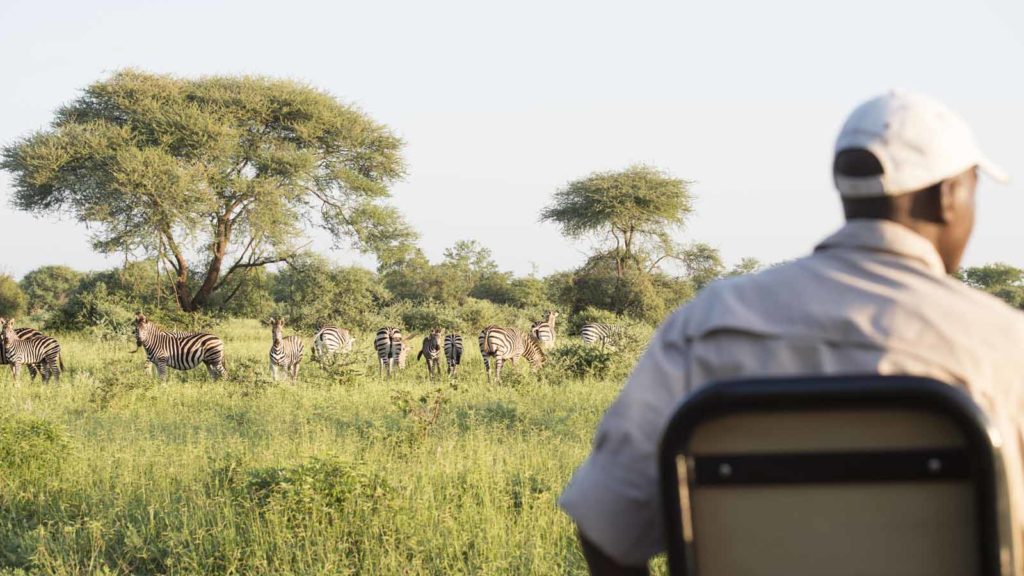 COMBINE SOUTH AFRICA AND ZIMBABWE FOR THE ULTIMATE SINGITA SAFARI Singita's expert Travel Advisors are available to plan your once-in-a-lifetime African safari. Email enquiries@singita.com to book