luxury safari in Zimbabwe
Malilangwe Wildlife Reserve
Sleeping Under the Stars at Singita Pamushana Lodge
Anyone who has been on safari knows the indescribable connection with nature that being in the African bush can give you. Proximity with the animals, exposure to the elements and the awakening of all your senses make for a thrilling adventure unlike any other. This unique experience is even more special if it includes a night spent under a canopy of stars.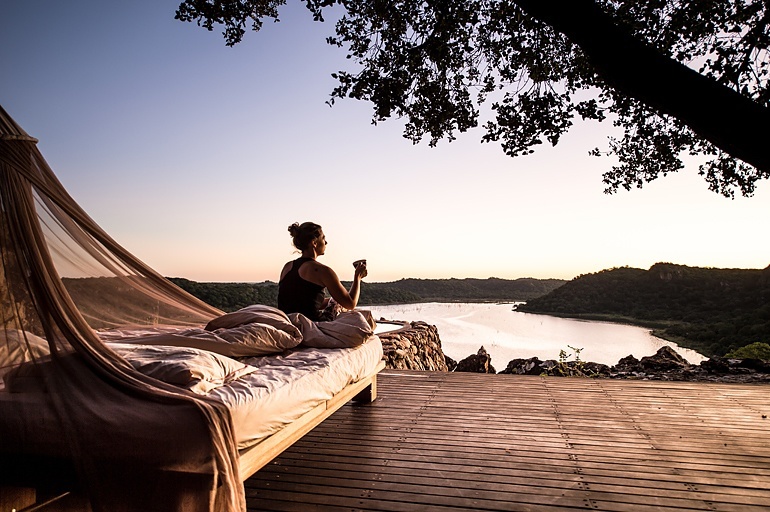 At Singita Pamushana Lodge in Zimbabwe, guests are able to spend a few hours or even the whole night in a luxurious bed on the private outdoor deck of their suite, overlooking the shimmering Malilangwe Dam below. It's the ultimate in romance; the hazy folds of the mosquito net around you, the stars flickering overhead, the sounds of the bush lulling you to sleep. The faraway cries of hyena and jackal echo in the distance along with the distant and unmistakeable rumble of a lion.
It is an experience at once exhilarating and serene, almost primal in its ability to make everyday life disappear into the background. There is a natural sense of vulnerability, but it is this feeling that allows you to fully connect with your environment. The wilderness at night is an astounding place, full of smells and sounds that go unnoticed during the day.
As dawn approaches, the day is welcomed by the birds as they begin to stir and the first rays of sunshine appear. It's the best alarm clock in the world, waking up to chirps and twitters, and the slow realisation of where you are. The stars fade as the sun rises over the eastern hills of the Malilangwe Wildlife Reserve and light streams across your bed. With one adventure ticked off your list, it's time for the next one: the morning game drive!
Singita Pamushana Lodge is the ecotourism arm of the 130,000-acre Malilangwe Wildlife Reserve, an extraordinary wilderness area next to the Gonarezhou National Park in southeastern Zimbabwe. Its role is to help foster the sustainability of the wildlife and broader ecology, while enabling guests to share the magic of the lodge and the Reserve. Find out more on our website.