Green Goals: Singita's Sustainability Vision for 2025
2020 has ushered in a new decade and an environmental "super year"; a year in which we have an incredible opportunity to make an ambitious global commitment to battle biodiversity breakdown and urgently tackle the climate emergency. Now is the time for change - this will be a make-or-break year in which key international decisions will set the tone and agenda for environmental action in the decade ahead. By making a commitment to implementing nature-based solutions that could start to turn back the clock, we could set off a series of positive events with far-reaching implications on the future of humanity.
This accelerating speed of nature loss and rapidly changing climate threatens people and life on Earth; we are now losing our natural world faster than it can restore itself. Plastic pollution, deforestation, greenhouse gas emissions and urban sprawl are having an unprecedented impact on the health of our planet. Governments, private organisations and non-profits around the world are mobilising to slow the effects of climate change before they reach catastrophic levels, while everyday citizens make their own contribution through lifestyle changes that are kinder to the environment. At Singita, we have set a series of ambitious goals to ensure that we further reduce our footprint on the earth and play our part in addressing the global climate crisis.
SINGITA SUSTAINABILITY TARGETS 2025 1. Energy: Our off-grid lodges to be 80% powered by on-site renewable energy and on-grid lodges 30% powered by renewable energy 2. Water: Reduced water used per bednight by 30% from baseline year 3. Transport: 100% electric game viewers within three years of commercial availability, and 80% of balance of fleet within four years of commercial availability 4. Food: 50% of fresh produce procured within a 100km radius 5. Materials: elimination of single-use plastics in 2020 6. Waste: send only 10% waste to landfill by 2023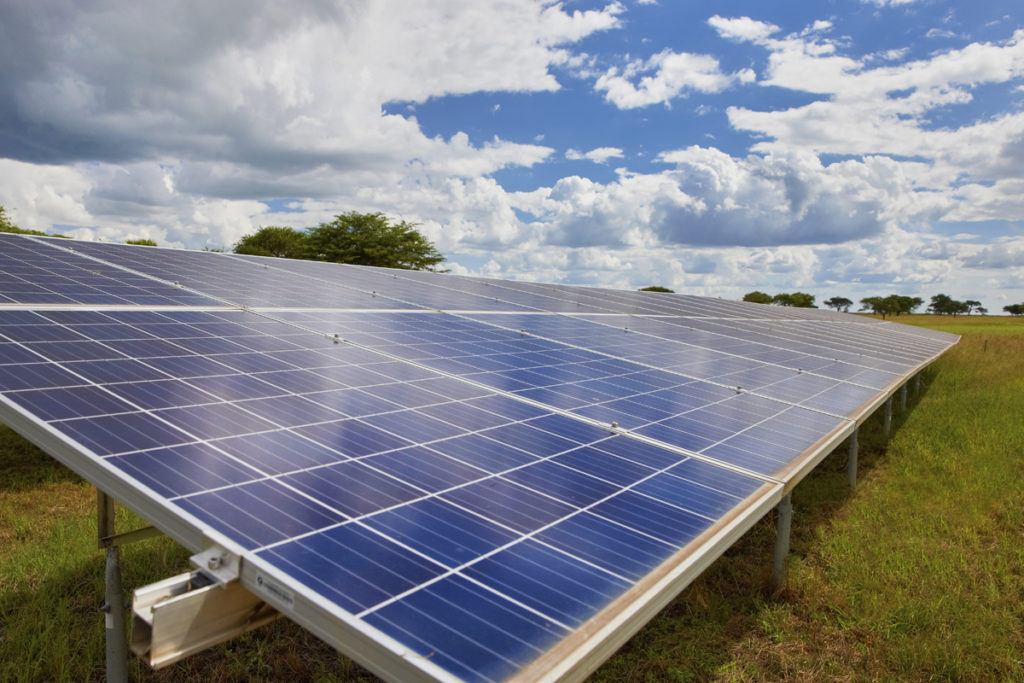 1. Energy By 2025, there will be the phasing in of solar power systems at all lodges and significantly reducing energy demand which will have a meaningful effect on the reduction of our carbon footprint. The installation of solar power technology, as well as the implementation of other energy-efficient systems – such as solar geysers, highly efficient air-conditioners and LED light bulbs – further reduces lodge energy demand. We record and monitor our carbon-emitting resources monthly, conduct periodic carbon footprint analysis and undertake ongoing research to identify new opportunities for creating or purchasing clean energy down the line.
2. Water Our business depends on healthy water systems to sustain life in the wilderness areas in which we operate and to supply our tourism operations. While the efficient use of water is already a priority in our day-to-day activities, future plans include maximising rainwater harvesting, implementing increasingly sophisticated greywater solutions, the continuous improvement of water monitoring and measurement systems, the establishment of green roofs and setting up more efficient water treatment systems.
3. Transportation The availability of off-road electric vehicles (EV) remains a challenge in Africa – especially on the scale at which we would need to procure them – but the future is bright. In anticipation of the mass adoption of EVs in roughly five years' time, the planning of fleet purchasing and leasing includes the natural progression into electrically-powered solutions, which will have a huge impact on our diesel consumption, as well as the company's carbon emissions. In the meantime Singita is focusing on how to reduce diesel consumption as far as possible, including "no drive" days for staff, as an example.
4. Food Supporting sustainable and humane farming, promoting access to healthy, low impact, local, seasonal and organic diets, and reducing food waste has long been the policy at Singita. As part of our approach to supporting neighbouring communities, we source as much food as we can from local suppliers and assist with the initiation of projects that can further increase local sourcing. The next phase of this element of our sustainability journey involves building capacity in and around our lodges in South Africa and Zimbabwe, following on from the successful farmers' cooperative model in place at Singita Grumeti. Our lodges in Tanzania currently purchase 80% of their fresh produce for staff and guests from GHOMACOS; an independent co-operative that supplies our kitchen teams with some of the most delicious fruit, vegetables, herbs, eggs, honey and beef in the country.
5. Materials The proliferation of single-use, "disposable" plastic is a worldwide issue that causes harm to marine ecosystems as well as polluting our soil and contaminating our food. The urgent need for the elimination of these materials has ignited a global movement, of which Singita if proud to be a part. We have already reduced the procurement of plastic bottled water by 95%, saving tens of thousands of plastic bottles from entering the waste stream. Single-use plastic is being rapidly phased out in all lodges. This includes straws, cotton buds, guest amenities, minibar packaging, spa products, food storage and dining condiments. Compostable alternatives to bin liners and food wrap are being trialled. The elimination of single-use plastic in supplier packaging is our next challenge and one in which our team is already actively engaged across the group.
6. Waste It is our intention that by 2025, no more than 10% of our waste will make its way to landfill. Effective waste reduction initiatives and recycling programmes are already in place, with much of our recycling going to community-run businesses. These relationships help to generate income for communities surrounding our reserves and draw a clear line between sustainability and the financial prosperity it can help to achieve in rural communities.
Highlights of our sustainability efforts to date include the conversion of multiple Singita lodges to solar power, with over 1MW of capacity currently in use, the use of high-tech architectural and engineering design to improve energy efficiency, the implementation of large-scale recycling projects in each region in which we operate, the creation of a more focused and sustainable food sourcing programme, and the integration of the One Planet Living framework into the company culture.
We are part of the international network of organisations using Bioregional's One Planet Living framework. We aim to embed One Planet thinking throughout our operations so that it becomes a natural part of how we conduct business, strategise, build new properties and create guest experiences. All our teams strive to operate our lodges and urban offices in a sustainable manner, applying the two focus areas of Care for Planet and Care for People. Find out more »