Empowering Local Communities
Local Community Upliftment
Serengeti School of Cooking
Singita Sabora Tented Camp
Singita Sabora Tented Camp
Careers in the Kitchen: A Day of Inspiration at Rigicha Secondary School
The health and happiness of the communities close to Singita's reserves is a key part of preserving the integrity of these wilderness areas and their wildlife. In order to ensure this positively enhancing balance between tourism, the community and conservation is maintained, Singita and its partners, like the Grumeti Fund in Tanzania, employs dedicated staff on each property to co-ordinate active support for development initiatives. One aspect of their role is to educate the local communities about the opportunities available in our lodges and reserves; something the students of Rigicha Secondary School in Issenye, near Singita Grumeti, learned recently.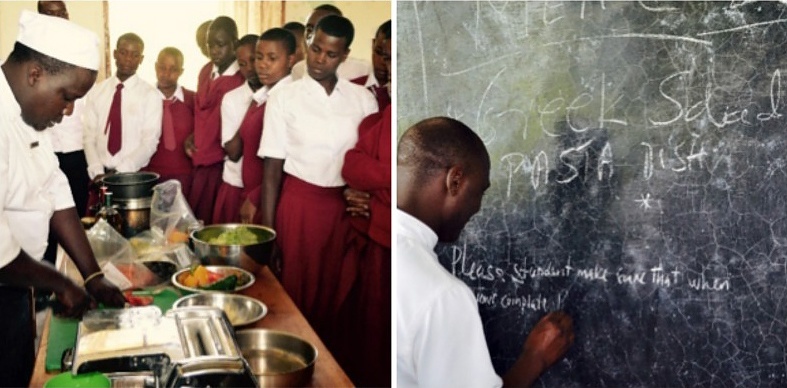 On the 13th of April this year, a team of chefs and Community Partnership Programme team members set out from Singita Grumeti to visit headmaster, Mr. Rugero, and his young learners. Among the group were Kananelo Moikangoe (Head Chef at Singita Faru Faru Lodge), Michael Matera (Head Chef at Singita Sabora Tented Camp), Celina Shayo and Moremi Wambura (both Senior Chefs de Partie), and Mark Temba (Skills Developer at the Singita School of Cooking).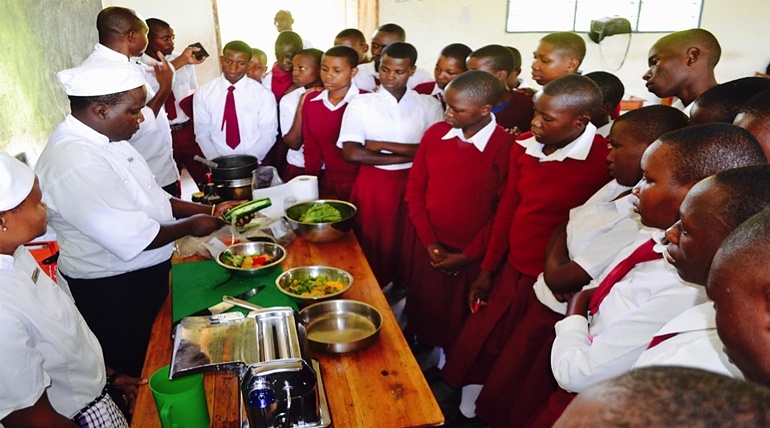 First up was Michael, who took the students through his life and travels, his career at Singita Grumeti and how he successfully climbed the ladder to being Head Chef. He also offered words of encouragement and focused on the importance of having a big dream. Mark spoke next, giving an overview of the first year of operations at the new Singita School of Cooking in the Serengeti (sister to the one at Singita Kruger National Park), the current class, the application process, the syllabus and day-to-day activities. Moremi and Celina finished off the presentation by explaining the day's menu at their lodges and what fresh, locally-sourced ingredients would be used in the preparation of these meals.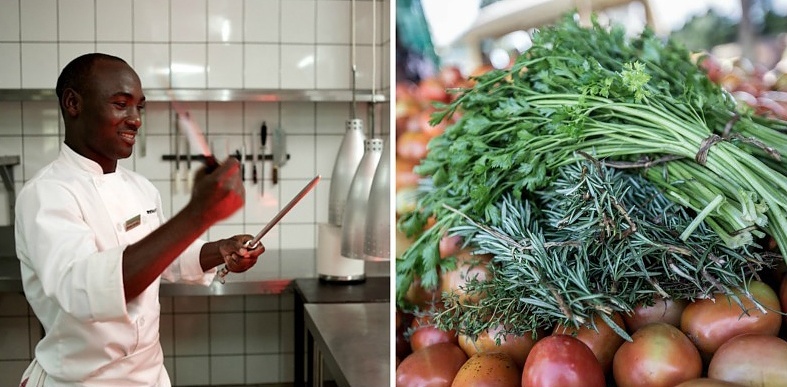 Once the talk was completed, it was time for a practical demonstration of their skills: first was Moremi's how-to for whipping up a greek salad. It might not be something you would automatically associate with Eastern Africa, but many of its ingredients - crunchy cucumbers, sun-ripened tomatoes, fresh herbs - are grown locally and are easily available. Next, Celina taught the children how to make a simple homemade pasta, again using store-cupboard ingredients like eggs and flour. When the demonstration was finished and both dishes were cooked, the students had a chance to taste the food and chat to the chefs a little more about their lives at Singita. The day ended on a high for both teachers and learners, with the team very much looking forward to their next community visit to nearby Hunyari Secondary School. Who knows, maybe the next star of the Singita School of Cooking is just waiting for them to arrive.

Michael Matera is well-placed to inspire young people with his story; he grew up in the local village of Natta, starting out as a lodge Grounds Attendant, and is now Head Chef at Singita Sabora Tented Camp, voted the [best hotel in Africa by the readers of Condé Nast Traveler Magazine in 2015](https://singita.com/about/awards/?lodge-id=13647&lodge-connection=awardstolodges). Read this blog post to learn more about his journey.